In this Bundle Option Kelley Knickerbocker offers up some amazing talent and crazy cool techniques! Starting with her course "FUNdamento" Kelley puts a spin on the word "andamento" and adds a little FUN to it! Scroll down to read the details on this course. Next up you will learn how Kelley takes Apoxie Sculpt and creates a whole new dimension to it. No longer just an adhesive follow along as Kelley shows you how to use it for a multitude of mosaic applications! Read below for the detailed description and watch the FREE Promo videos and personal interviews to learn more and see what inspires Kelley! This Bundle Option will save you money too!
"FUNdamento"
Mosaic Arts Online is thrilled to present Kelley Knickerbocker and her unique spin on andamento, titled FUNdamento. Kelley began her mosaic explorations by reassembling random shards of broken materials and found objects. And that's a good thing, because fitting those come-as-they-are shapes together honed her sense of visual/spatial unity. In other words, the ability to match up sides and angles of disparate shapes to reveal their unique harmony.
In FUNdamento, Kelley takes you to the next level and explores using wheeled nippers to cut specific shapes with specific intentions of direction and flow. This intentional expressiveness is what in classical Italian mosaic vocabulary is called andamento. Exploring this process together and learning from each other is what Kelley calls FUNdamento!
Kelley teaches this course by building a simple three-section mosaic seascape while analyzing three different types of andamento (circles, squares/rectangles, and classic linear) and you will learn how to construct them, how to combine them, and how to decide which is most useful when.
By using the direct setting method into thinset mortar, you will get a bit of an education on how height differentials work with no grouting! Kelley will discuss a little about design (simplicity vs complexity, hard edges vs organic, transferring to substrate), a fair bit about process (preprocessing materials, order of construction, adding unplanned elements), and address a few color issues (variety in a single-color field, boosting the vividness of colors) as they arise.
The main focus of this course will be on shaping: coaxing circles from squares, a foolproof trick for perfect keystoning angles, keeping randomness random, consistent inconsistency, creating/reinforcing directionality when you want it, diverging a line with a piece shaped like a pair of underpants (yes, really!), and more.
When you've completed this course you'll be conversant in three andamenti, you'll be a better cutter of materials, and you'll have gained the confidence and skill to be intentionally expressive with both directionality and randomness in your mosaics.
"Beyond Adhesive: Apoxie Sculpt as Mosaic Material"
Mosaic Arts Online is thrilled to present Kelley Knickerbocker and her online course, "Beyond Adhesive: Apoxie Sculpt as Mosaic Material." Apoxie Sculpt has gained a lot of fame in the mosaic sphere as an adhesive with filati and jewelry, but did you know this two-part epoxy putty (known as Apoxie Sculpt in this course) can also be tinted to any color and used as a mosaic material? Kelley has been innovating a number of fascinating uses for Apoxie Sculpt in mosaic for a while now, and to our delight she's now brought them together for her exclusive online course for all of you to learn and enjoy.
First out of the gate Kelley walks you through how to color Apoxie Sculpt. She shows us how to use the black, natural and white products with certain paints to produce any color imaginable and then tint (add white) or shade (add black) any color to create its multi-value gradient. (Knowing how to create gradients is particularly useful later in the course when we make Apoxie Sculpt filati; gradient palettes make for much more nuanced and expressive micromosaics!)
From color Kelley moves on to gilding Apoxie Sculpt with metallic paints for brilliant or subtle moldable bling (learn why it's more effective to gild the metallic paint onto the exterior rather than mixing it into the epoxy putty), then she demonstrates how to edge an entire mosaic with one or multiple colors of Apoxie Sculpt. Yep, you heard right. Apoxie Sculpt becomes as discrete or visible a frame as you wish, and protects your edges from dings and fingerprints. Did we mention you can also form bumps, curls, wrinkles, and divots into your edges, and tuck little surprises in between the mosaic and the Apoxie Sculpt edge and/or between the Apoxie Sculpt edging layers? These steps are where the adhesive, sculptural, and strength properties of Apoxie Sculpt come together!
And speaking of edging, be sure to have a few tesserae handy to practice wrapping individual tesserae (as many layers as you like!) for a bit of color zing or metallic bling anywhere in your mosaic, and get ready to learn how to contour design elements or sections of your mosaic with a line of Apoxie Sculpt for definition, emphasis, or continuity.
Kelley will also demonstrate how to form several elements out of Apoxie Sculpt, using it as you would any other sculptural clay to form rosettes, sticks, rings…let your imagination fly! And finally, you'll create both round and uniquely-shaped filati in a color/size gradient and set it into black Apoxie Sculpt as a micromosaic.
When you've completed this course you'll understand how to tint and form two-part epoxy putty like a pro; to add either subtle or dramatic color, texture and objects to enliven and protect your mosaics and strengthen/support your designs/compositions.
This course comes with a PDF for download of the suggested tools, materials, and resources.
Your Instructor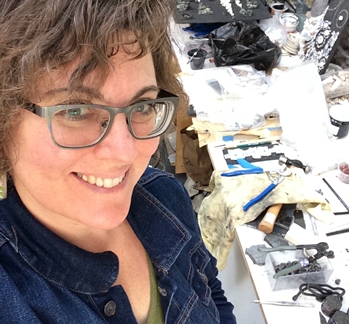 Visual artist Kelley Knickerbocker left a 22-yr administrative career at the University of Washington in 2006 to found a mosaic studio (Rivenworks Mosaics, Seattle) and direct her accumulated skills in project management and planning toward designing/fabricating/installing mosaic artwork for public, commercial, residential and gallery environments.
Kelley's ruggedly dimensional mosaics, in a broad range of materials, are a textural distillation of her fascination with contrast, material properties and the technical challenges of mosaic construction. Sharing that fascination and learning from other art makers are keys to the freshness of Kelley's mosaic practice, and she travels extensively throughout North America speaking, collaborating and teaching in-depth workshops on mosaic style and technique.
Kelley's fine art mosaic panels have been accepted to numerous national and international juried exhibitions, and many reside in private collections. She is an active member of the Society of American Mosaic Artists.
Courses Included with Purchase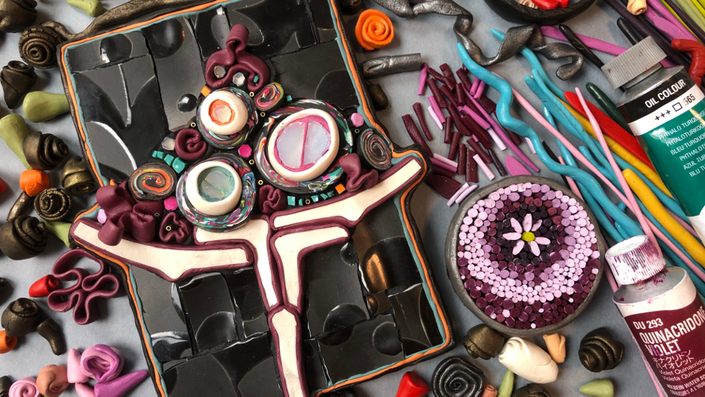 Beyond Adhesive: Apoxie Sculpt as Mosaic Material with Kelley Knickerbocker
You Knead this course!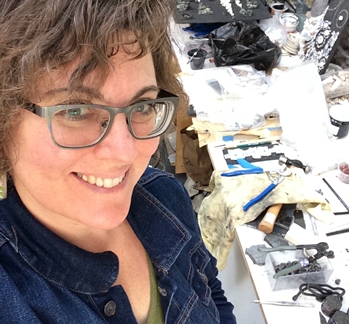 $197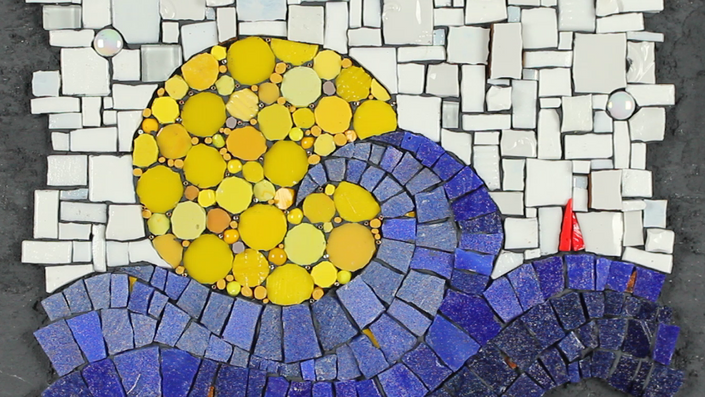 Fundamento: Shape+Direction=Flow with Kelley Knickerbocker
Setting a new foundation for laying your tesserae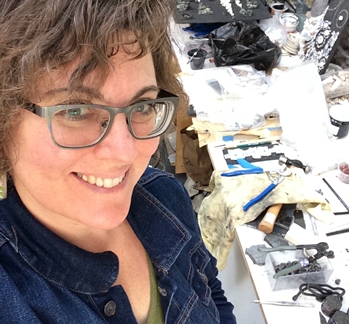 $197
Original Price: $394
Frequently Asked Questions
When does the course start and finish?
The course starts now and never ends! It is a completely self-paced online course - you decide when you start and when you finish.
How long do I have access to the course?
How does lifetime access sound? After enrolling, you have unlimited access to this course for as long as you like - across any and all devices you own.
What if I am unhappy with the course?
We would never want you to be unhappy! If you are unsatisfied with your purchase, contact us in the first 14 days and we will give you a full refund.