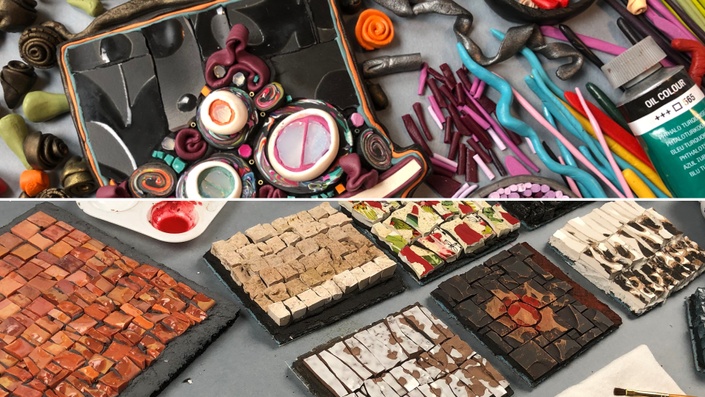 BUNDLE: Beyond Adhesive: Apoxie Sculpt as Mosaic Material and Finishing School: Surface treatments for Mosaic with Kelley Knickerbocker
Learn more and save more
Enroll in Course
If you are looking to learn how to alter the surfaces of your tesserae in a wide variety of ways and how to use Apoxie Sculpt as more than an adhesive then pull up a chair and let Kelley lead the way with this Bundle option. Read the descriptions below for each course. All MAO Bundle options are always a 15% off savings vs purchasing the course separately. Once you have purchased these bundled courses you will find them in the "my products" link at the top right of the screen. Make sure to click each of these courses separately to access them.
Description for Beyond Adhesive: Apoxie Sculpt as Mosaic Material

Mosaic Arts Online presents Kelley Knickerbocker and her online course, "Beyond Adhesive: Apoxie Sculpt as Mosaic Material." Apoxie Sculpt has gained a lot of fame in the mosaic sphere as an adhesive with filati and jewelry, but did you know this two-part epoxy putty (known as Apoxie Sculpt in this course) can also be tinted to any color and used as a mosaic material? Kelley has been innovating a number of fascinating uses for Apoxie Sculpt in mosaic for a while now, and to our delight she's now brought them together for her exclusive online course for all of you to learn and enjoy.
First out of the gate Kelley walks you through how to color Apoxie Sculpt. She shows us how to use the black, natural and white products with certain paints to produce any color imaginable and then tint (add white) or shade (add black) any color to create its multi-value gradient. (Knowing how to create gradients is particularly useful later in the course when we make Apoxie Sculpt filati; gradient palettes make for much more nuanced and expressive micromosaics!)
From color Kelley moves on to gilding Apoxie Sculpt with metallic paints for brilliant or subtle moldable bling (learn why it's more effective to gild the metallic paint onto the exterior rather than mixing it into the epoxy putty), then she demonstrates how to edge an entire mosaic with one or multiple colors of Apoxie Sculpt. Yep, you heard right. Apoxie Sculpt becomes as discrete or visible a frame as you wish, and protects your edges from dings and fingerprints. Did we mention you can also form bumps, curls, wrinkles, and divots into your edges, and tuck little surprises in between the mosaic and the Apoxie Sculpt edge and/or between the Apoxie Sculpt edging layers? These steps are where the adhesive, sculptural, and strength properties of Apoxie Sculpt come together!
And speaking of edging, be sure to have a few tesserae handy to practice wrapping individual tesserae (as many layers as you like!) for a bit of color zing or metallic bling anywhere in your mosaic, and get ready to learn how to contour design elements or sections of your mosaic with a line of Apoxie Sculpt for definition, emphasis, or continuity.
Kelley will also demonstrate how to form several elements out of Apoxie Sculpt, using it as you would any other sculptural clay to form rosettes, sticks, rings…let your imagination fly! And finally, you'll create both round and uniquely-shaped filati in a color/size gradient and set it into black Apoxie Sculpt as a micromosaic.
When you've completed this course you'll understand how to tint and form two-part epoxy putty like a pro; to add either subtle or dramatic color, texture and objects to enliven and protect your mosaics and strengthen/support your designs/compositions.
This course comes with a PDF for download of the suggested tools, materials, and resources.
Description for Finishing School: Surface Treatments for Mosaic
Are you working with a machine-smoothed material? What if you could selectively (or completely) give it some interesting texture?
Is your material interior color/reflectivity different from its outer color/reflectivity? What if you could remove a bit of that exterior to expose some of the interior loveliness, or remove all of the exterior on some tesserae and let the altered and unaltered sing together in complex harmony?
Are you using a shiny material? What if you could deglaze a handful of it and use the shiny and matte together?

Is that cut stone a little too pale? What if you could darken or "age" it a bit?

Want to alter the color of an open area of mortar to strengthen its visual connection to your mosaic? Let's do that!
In this online course Kelley Knickerbocker, the perennial asker of "What if?", has brought her creative process here to Mosaic Arts Online. Kelley has been inventively altering the surfaces of tesserae and mortar for nearly 15 years to add nuance, emphasis, and expressiveness to her mosaics. In this online course she'll focus that accumulated knowledge on the how and when of three specific categories of surface changes: texture, color, and reflectivity, and step through multiple techniques to effect these changes on multiple materials.
Techniques include defacement, layered washes and rubs, gilding, read-through, deglazing and more. You can practice these effects on individual loose tesserae or build some simple, small sample boards of different materials to practice more extensively along with the course.
It wouldn't be a Kelley workshop without some materials analysis, so of course you'll be practicing on a variety of miscellaneous tesserae (a few types of glass, different types of glazed ceramic dishware or tile, a few types of stone, and unglazed porcelain) to contrast, compare, and transform. Each of these materials have different characteristics (porosity, transparency, hardness, etc.) that will determine which surface treatment technique will be most effective and when it will need to be applied. Learn which treatments need to begin as you're processing your tesserae, and which can happen during or even after construction of your mosaic.
Your Instructor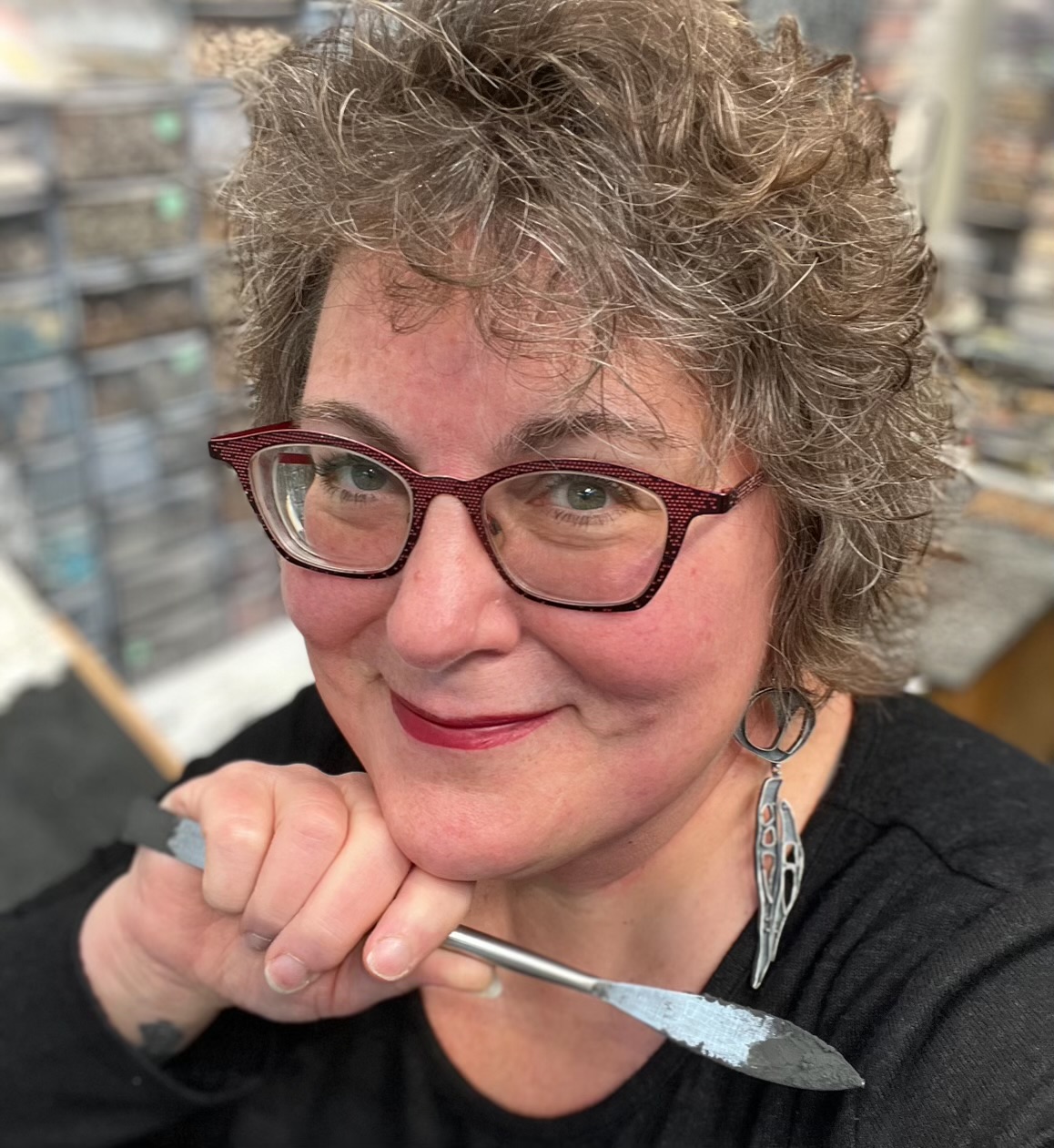 Visual artist Kelley Knickerbocker left a 22-yr administrative career at the University of Washington in 2006 to found a mosaic studio (Rivenworks Mosaics, Seattle) and direct her accumulated skills in project management and planning toward designing/fabricating/installing mosaic artwork for public, commercial, residential and gallery environments.
Kelley's ruggedly dimensional mosaics, in a broad range of materials, are a textural distillation of her fascination with contrast, material properties and the technical challenges of mosaic construction. Sharing that fascination and learning from other art makers are keys to the freshness of Kelley's mosaic practice, and she travels extensively throughout North America speaking, collaborating and teaching in-depth workshops on mosaic style and technique.
Kelley's fine art mosaic panels have been accepted to numerous national and international juried exhibitions, and many reside in private collections. She is an active member of the Society of American Mosaic Artists.
Courses Included with Purchase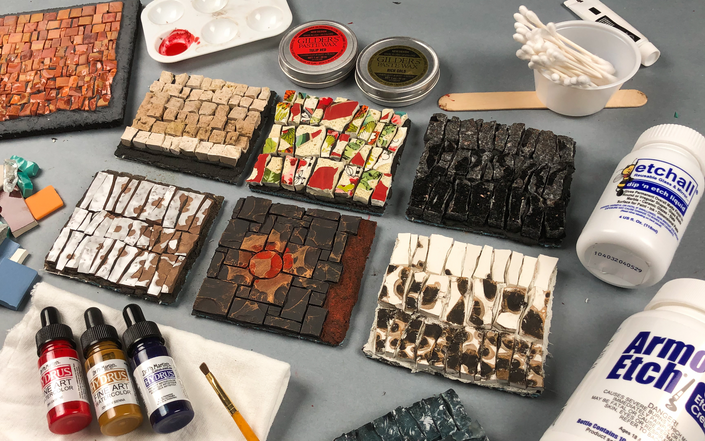 FINISHING SCHOOL: Surface treatments for Mosaic with Kelley Knickerbocker
Transforming surface texture, color, and reflectivity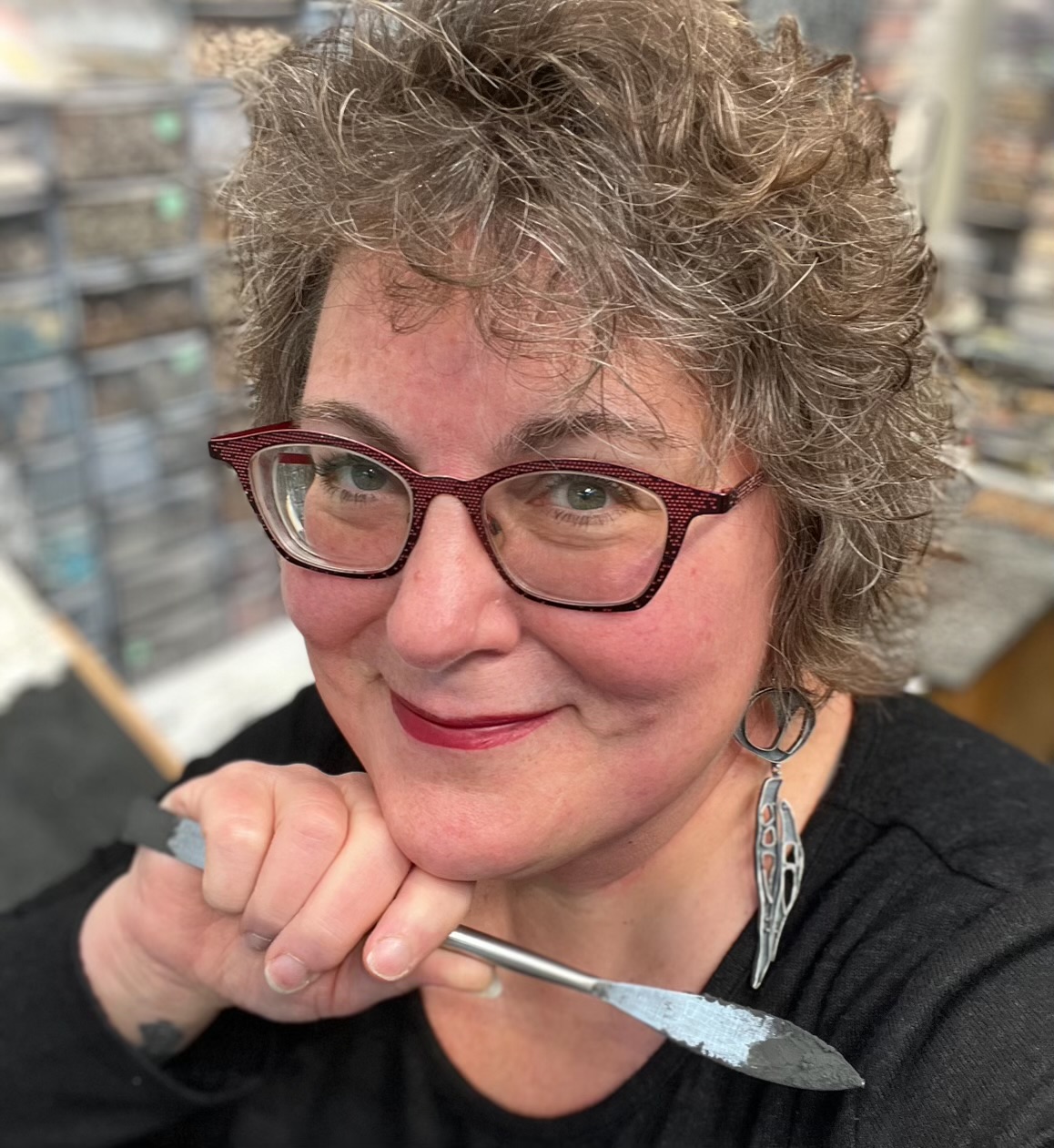 $197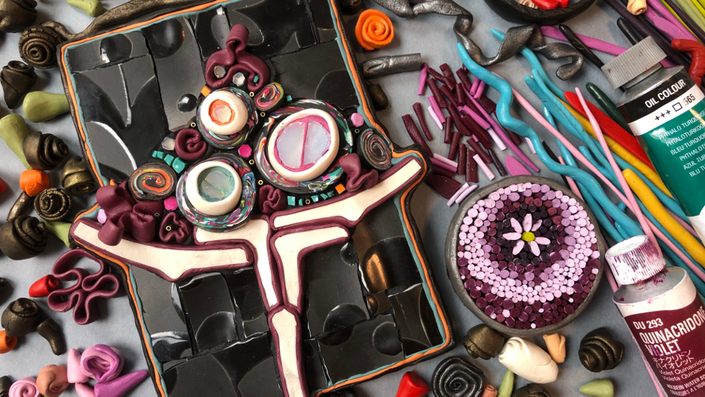 Beyond Adhesive: Apoxie Sculpt as Mosaic Material with Kelley Knickerbocker
You Knead this course!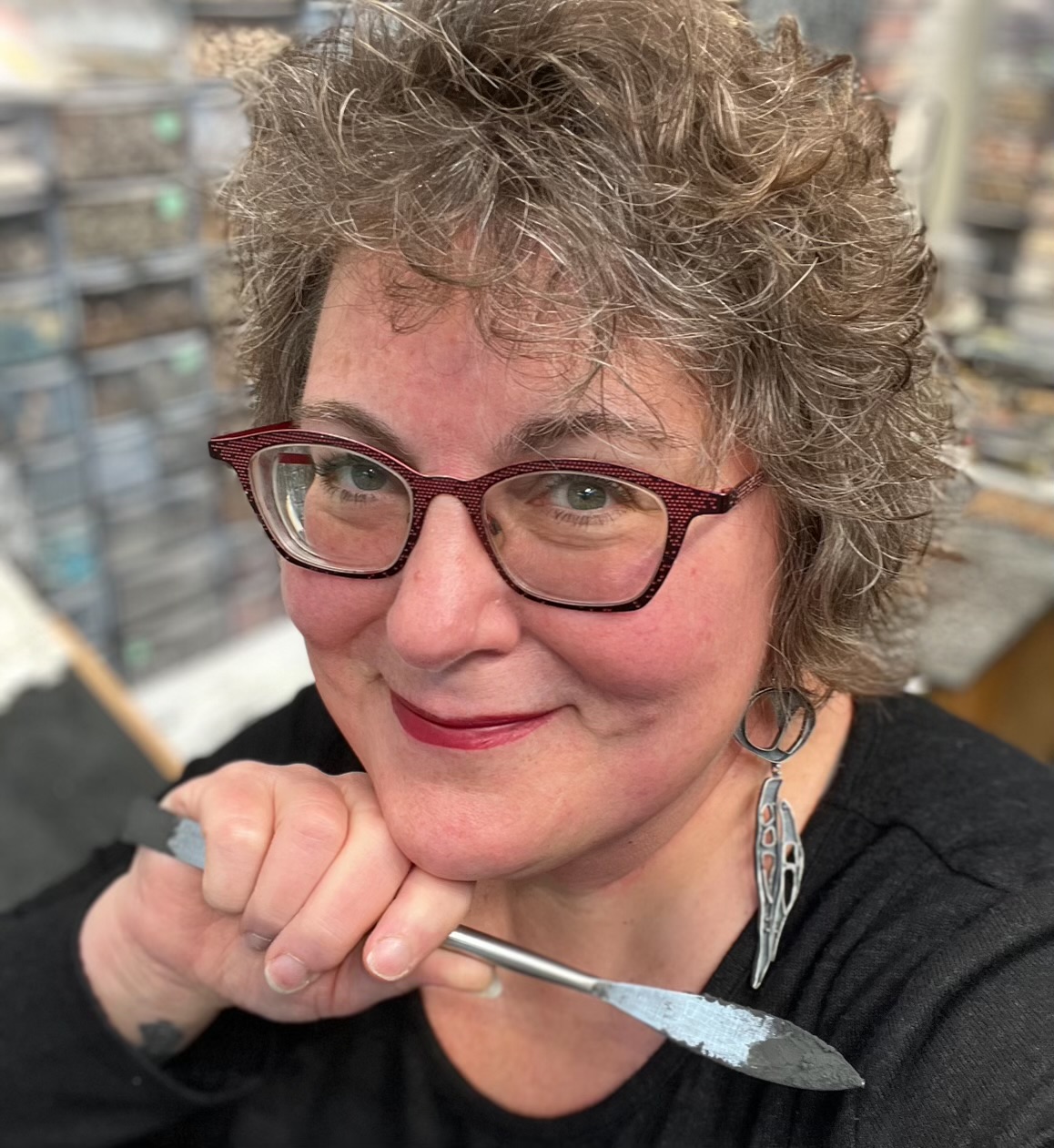 $197
Original Price: $394
Frequently Asked Questions
When does the course start and finish?
The course starts now and never ends! It is a completely self-paced online course - you decide when you start and when you finish.
How long do I have access to the course?
How does lifetime access sound? After enrolling, you have unlimited access to this course for as long as you like - across any and all devices you own.
What if I am unhappy with the course?
We would never want you to be unhappy! If you are unsatisfied with your purchase, contact us in the first 14 days and we will give you a full refund.